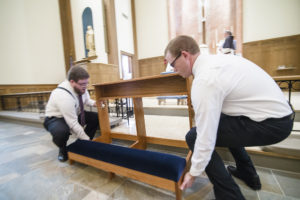 Little John Woodworks is a partnership between two brothers, Daniel and Adam Taylor. After learning the basics of construction and general woodcraft from our father, a lifelong carpentry teacher at a technical high school, we discovered our love of fine woodworking in early 2014 and haven't looked back since. Both of us devoured as much woodworking instruction as we could, building project after project and developing our skills.
As practicing Catholics, we looked for ways to use our newfound skills to help the Church and edify our fellow men. We discovered that there was indeed a place for woodworkers in the Church today after receiving several commissions for ecclesiastical appointments, and decided to focus on ecclesiastical furniture and devotional items. We are still open to custom projects, though, even if not ecclesiastical in nature!
Feel free to check out our full portfolio, or narrow your browsing to ecclesiastical furniture, devotional items, or custom projects. To discuss a project or obtain a quote, contact us here.
Why the name?
Because we specialize in ecclesiastical appointments and want to offer our skills to the Church, we decided to place our business under the patronage of St. Nicholas Owen, a skilled recusant carpenter in England during the time of the Protestant Reformation. St. Nicholas specialized in building priest-holes to hide priests from the authorities in a time when even aiding and abetting a Catholic priest was punishable by death; to avoid detection, he often went by aliases, one of which was "Little John." He is a great model of craftsmanship and faith in times of persecution, and we seek to emulate him in everything we do. Sancte Nicholae Owen, ora pro nobis!